How did Maycomb feel about the verdict?
The object of this game is to learn how the community reacted to the trial verdict by unscrambling plot events and answering open-ended questions about the townspeople's reactions.
To win a grand prize, your team must collect all four character cards:
In order to win a card, here's what your team has to do:
Unscramble the plot events

in chapter 22 by putting them in the correct plot order.

Show your results to Mr. T.

The team will answer the questions for the chapter and the team captain will submit them to

Actively Learn

.

Receive an Atticus character card when the team receives an

advanced

score.

Repeat the steps for:

Chapters 23/24/25

(Scout card)

Chapters  26,/27/28

(Boo Radley card)

Chapters 29/30/31

(Tom Robinson card)
Prizes:
4 Character cards: 10 percentage points added to lowest grade on any MP2 quiz.
3 Character cards: 3 points.
2 Character cards: 1 point
1 or fewer cards: You're kidding, right?
Chapter 22 
 Chapter 23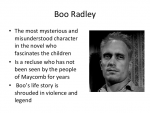 Chapter 26
 Chapter 29